Rob, based in the south east, has been a lover of the great outdoors for many years, having commenced walking and scrambling in the British Mountains as a teenager.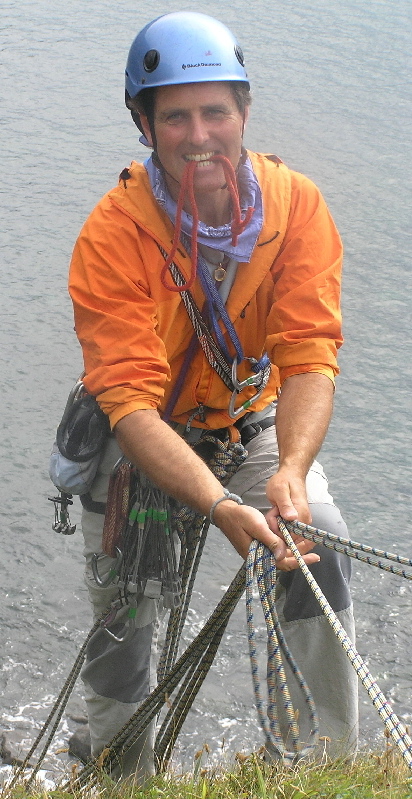 He has been climbing since the mid 70's, his first experience on 'real' rock being Harrison's Rocks in the south-east. Eventually the lure of more adventurous locations took a hold and a whole new world of mountain routes and sea cliffs opened up.

Rob has been a regular visitor to the Alps since 1986 and climbed in the US for the first time in '98, climbing in Colorado, Wyoming, Utah and California on various trips. Over the last four years Rob has visited Morocco's Anti-Atlas Mountains, embracing the very adventurous trad climbing in the most stunning of settings!

On the instructing front Rob has been passing on rock climbing and mountaineering skills for over 20 years. He has held the Mountain Instructor Award, since 2002.

Rob is a member of the Association of Mountaineering Instructors (AMI).

Other interests include; mountain biking, orienteering and skiing.

Touch the Rock delivers climbing and mountaineering courses in the UK and the Costa Blanca area of Spain. We also facilitate Alpine and Ice climbing courses in France, Italy and Switzerland. Living in Brighton, East Sussex, Rob is able to provide personal tuition for climbers of all levels at local climbing walls and runs rock courses on the Southern Sandstone.
Rob also provides services to the following organisations:
Achieving for Children

4th Dimension
Grangewaters Outdoor Centre
Lambourne End Outdoor centre
Swattenden Outdoor Centre
Three Peaks Barfield School




UK Rock Highlights

The Moon, Mousetrap Gogarth
Left Wall Dinas Cromlech
Pleasure Dome, Brave New World Pembroke
The Ghost Bosigran
American Beauty, Meninirons Lundy
Mercury Carn Gowla

USA Rock Highlights

Petit Grepon, Estes Park Colorado
Rosy Crucifixion, Eldorado Canyon Colorado
Tulgy Wood, Devil's Tower Wyoming
North Chimney, Castleton Tower Utah
Crescent Arch, Tuolomne Meadow California
Snake Dike, Yosemite California


Spanish Hightlights

Diedro UBSA, Penon de Ifach, Vuelo del Aguila, Mascarat, Espolon Central, Puig Campana,

Espolon Paigu, Cabezon De Oro, Through the looking glass, Echo 2, Diedro Edwards, The Divino.
Via Valencianos, Ponoch.
Moroccan Anti - Atlas Highlights
South side of the Jebel El Kest - Shady Jane (Asgaour Gorge) White Tower (Tifghalt)
Barbi (Yazult) Tizgut Crack (Tizgut Gorge) The Black Groove (Tifghalt)
North side of the Jebel El Kest - Gamma (Greek Buttress) Paladin (Ksar Rock) Wall Street (Sidi M'Zal) Brisingr (Dragon Buttress) The second coming (Taskra East Pillars)